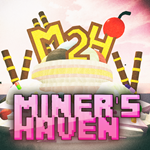 Overview
The Birthday Update 2017 is a Miner's Haven update that occurred on June 12th, 2017 and lasted until July 11th, 2017.
 Update Changelog
Miner's Haven's 2nd Birthday
It's Miner's Haven's 2nd Birthday!
The Final Upgrader
Removed extra stats and made it a x1000 upgrader.

Due to the heavy backlash behind the "buff", berezaa will re-work the Final Upgrader.
Rocket Launcher
The Rocket Launcher is now available from the Ice Cream Man! Buy it from him for R$95 whenever it's obtainable!
Conveyor Ramp
Tier changed from Uncommon to Common
Starting with the Skipped Life Update, Berezaa began releasing patch notes for his updates, from now on, update pages will link to those patch notes and additional notes and comments will be written on the pages. This means we will no longer copy and paste notes from bergames.com. In the case where patch notes get deleted from bergames.com, TWEM will keep backups.
All Miner's Haven Updates & Events Template Page
| | |
| --- | --- |
| 2018 | Fresh Air Update, Innovation: Black Panther, Magic Clover Event, The Layout Update/Easter Update 2018, 100 Million Visits!, Menu Refresh Update, The Gargantuan Update / Miner's Haven 3rd Anniversary, The Knowledge Update |
| 2017 | New Year's Update 2017, The Ultimate Update, Golden Clover Event, Skipped Life Update, Pre Easter Update 2017, Easter 2017, Clan Contest, Exotic Day, Summer Update 2017, Fidget Spinner Patch, Birthday Update 2017, The Resurrection Update, Halloween Event 2017, The Life Saving Update, Black Friday 2017, Winter Event 2017 |
| 2016 | Early 2016 Updates, Xbox Update, April 2016 Updates, May 2016 Updates, June 2016 Update, Birthday Update, Fourth of July update, August 2016 Update, September 2016 Update, Pre Spooky Update 2016, Halloween Event 2016, Black Friday 2016, 2016 Winter Update |
| 2015 | Summer Update 2015, The Overnight Update, Halloween Event 2015, November 2015 Updates, Black Friday 2015, 2015 Winter Update |