Overview
The St. Patrick's Day Event 2017 was first announced on March 17, 2017, and was released on the same day at 5:00pm EST (contrary to Berezaa stating 5:30pm EST). A new NPC was added along with The Innovator, The Leprechaun (referred to as "Patty" in the game). He or she sells some of the new items. Items put up for sale can only be purchased with golden clovers, which could be obtained from rebirth (sometimes), unboxing clover crates, and in daily gifts.
On march 18th, berezaa wrote "Hit PLAY SOLO when you join to try out John Doe's Trial! ONLY WORKS TODAY!" in the description of Miner's haven. In solo mode, you can complete a hard obby to win 30 golden clovers. It references the "JOHN DOE IS HACKING ROBLOX" clickbait.
The new items include:
John Doe and his Obby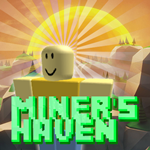 In early 2017, there were rumors circulating that the ROBLOX user John Doe would hack any ROBLOX users that signed in on March 18th 2017 (which happened to be the day after the Golden Clover Event started). Many believed these rumors while some did not - including Berezaa. He wanted to make a joke out of it by created an obby that was said to be hosted by John Doe. The obby would award users 30 Golden Clovers upon finishing it, although many users found it difficult to complete.
There were places with CanCollide parts meaning that users could fall through them thinking they would keep them up. Many users also found it tricky figuring how much distance to jump from one platform to another making things worse. To see what the obby looked like and how to finish it successfully, click here to view a video (you can't locally store videos on wikia). On March 18th 2017, John Doe did not hack any ROBLOX accounts and on the 21st, a blog post was released explaining the account John Doe. Some users felt reassured while some claimed that John Doe hacked the ROBLOX blog. John Doe is also a placeholder name for many situations.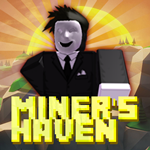 Post Golden Clover Event Update
The event finally ended March 21, 2017 at 9:00pm EST (with Berezaa doing a development stream on it two hours earlier). Users could no longer receive Golden Clovers but instead trade in 10 of them for one unreal box, or buy the Golden Clover Blaster if they still had 150 Golden Clovers, Berezaa even released the code. Also included in the update Berezaa fixed (sort of) the Ore Cannon and the Ore Collider.
Starting with the Skipped Life Update, Berezaa began releasing patch notes for his updates, from now on, update pages will link to those patch notes and additional notes and comments will be written on the pages. This means we will no longer copy and paste notes from bergames.com. In the case where patch notes get deleted from bergames.com, TWEM will keep backups.
All Miner's Haven Updates & Events Template Page
| | |
| --- | --- |
| 2018 | Fresh Air Update, Innovation: Black Panther, Magic Clover Event, The Layout Update/Easter Update 2018, 100 Million Visits!, Menu Refresh Update, The Gargantuan Update / Miner's Haven 3rd Anniversary, The Knowledge Update, New Heights Update |
| 2017 | New Year's Update 2017, The Ultimate Update, Golden Clover Event, Skipped Life Update, Pre Easter Update 2017, Easter 2017, Clan Contest, Exotic Day, Summer Update 2017, Fidget Spinner Patch, Birthday Update 2017, The Resurrection Update, Halloween Event 2017, The Life Saving Update, Black Friday 2017, Winter Event 2017 |
| 2016 | Early 2016 Updates, Xbox Update, April 2016 Updates, May 2016 Updates, June 2016 Update, Birthday Update, Fourth of July update, August 2016 Update, September 2016 Update, Pre Spooky Update 2016, Halloween Event 2016, Black Friday 2016, 2016 Winter Update |
| 2015 | Summer Update 2015, The Overnight Update, Halloween Event 2015, November 2015 Updates, Black Friday 2015, 2015 Winter Update |
Pages in category "Golden Clover Event"