Overview
This is a page related to Miner's Haven anniversaries to come! This page was created on June 12th 2016 in observance of Miner's haven's first birthday!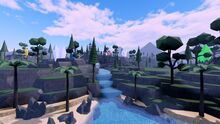 06/12/2016 changelog
Miner's Haven turns one years old, the update was released around 6/12/2016 8:00am, for the next few days Berezaa extends the event until midnight on June 16th 2016.
Users received a Birthday Upgrader from their daily gifts!
The exotic Birthday Cake was available in mystery boxes
Freon Supressor conveyor height fixed
Alien Relic's Hitbox position fixed
Shout bug fixed
Thingamajig receives a buff
The font of the chat menu was changed. The style lightly changed with it.
06/12/2017 changelog
You may refer to this page.
06/11/2018 Changelog
Main article: The Gargantuan Update
Starting with the Skipped Life Update, Berezaa began releasing patch notes for his updates, from now on, update pages will link to those patch notes and additional notes and comments will be written on the pages. This means we will no longer copy and paste notes from bergames.com. In the case where patch notes get deleted from bergames.com, TWEM will keep backups.
All Miner's Haven Updates & Events Template Page
| | |
| --- | --- |
| 2018 | Fresh Air Update, Innovation: Black Panther, Magic Clover Event, The Layout Update/Easter Update 2018, 100 Million Visits!, Menu Refresh Update, The Gargantuan Update / Miner's Haven 3rd Anniversary, The Knowledge Update, New Heights Update |
| 2017 | New Year's Update 2017, The Ultimate Update, Golden Clover Event, Skipped Life Update, Pre Easter Update 2017, Easter 2017, Clan Contest, Exotic Day, Summer Update 2017, Fidget Spinner Patch, Birthday Update 2017, The Resurrection Update, Halloween Event 2017, The Life Saving Update, Black Friday 2017, Winter Event 2017 |
| 2016 | Early 2016 Updates, Xbox Update, April 2016 Updates, May 2016 Updates, June 2016 Update, Birthday Update, Fourth of July update, August 2016 Update, September 2016 Update, Pre Spooky Update 2016, Halloween Event 2016, Black Friday 2016, 2016 Winter Update |
| 2015 | Summer Update 2015, The Overnight Update, Halloween Event 2015, November 2015 Updates, Black Friday 2015, 2015 Winter Update |