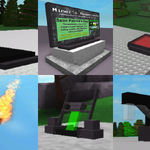 Starter Items are items you get when you first start Miner's Haven. Some items in this list can be received after your rebirth. (Not to be confused with Reborn Items).
NOTICE: THE SIX ONLY ITEMS THAT BELONG HERE ARE THE BASIC CONVEYOR, BASIC IRON MINE, BASIC FURNACE, FINE-POINT UPGRADER, GIANT TORCH, AND THE UPDATE BOARD. ANY OTHER ITEMS WILL BE REMOVED.
Pages in category "Starter Items"
Ad blocker interference detected!
Wikia is a free-to-use site that makes money from advertising. We have a modified experience for viewers using ad blockers

Wikia is not accessible if you've made further modifications. Remove the custom ad blocker rule(s) and the page will load as expected.