Overview
The 2016 MH WInter Update featured a variety of new items and features just in time for the seasons. Users also received perks after buying artifacts during Black Friday 2016 and the event was released as parts.
Part 1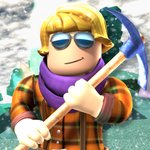 Part 1 of the 2016 Winter Update was released on Friday, December 9th 2016. This update was supposed to be released at 8:00pm EST but Berezaa decided to continue his "lazy" streak of announcing dates saying when these updates would come out and instead developing the updates at that time. The update came out around 9:30pm EST instead. Here are the changes that occured with this update:
The map was winterized, parts were recolored, it started snowing, and a snowflake appeared on the back of the Miner's Haven logo as seen on the start screen.
This update included part 1 of the Artifacts taking effect, this means some of the artifacts' effects were released but not all of them, the second part of the unboxing would be out by Christmas revealing the contents of the artifacts. To read about the artifacts, refer to the Black Friday 2016 page.
Part 2
Part 2 of the 2016 winter update was released on Sunday, December 18th 2016 at around 7:30pm EST. In this update, a variety of new winter content was finally released, here's a list of all the changes that occurred:
A custom chat menu was added when Berezaa suspected that the problems with the standard ROBLOX chat menu broke the Ore Cannon and teleporters in November.
Users finally received items that would come with Black Friday artifacts including:
For the first time, exotics were added into mystery boxes as gifts. These gifts will not be opened until Christmas when the exotics become unobtainable via mystery boxes.
Similar to the pumpkins from the 2016 Spooky Update, bright orange gifts started raining from the sky rewarding Regular Boxes. Its unknown or even doubtful that Berezaa might do something even greater with these presents like he did with the 2016 Spooky Update where smashing 100 pumpkins would award the user with a Pumpkin Hero and smashing the massive pumpkin would award the user with a Candy Bag.
Part 3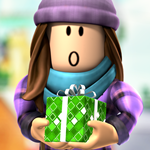 As promised by Berezaa, this update was released on December 25th 2016 at around 12:00pm EST. Here are the changes that occurred in this update:
Headless Santa has appeared in the center of the map, replacing The Masked Man and is selling mystery boxes, clovers, and limited time Christmas Collectibles and Exotics. Headless Santa will appear until 2017, when most likely Jak'uhfdor will take his place.

New Christmas and Winter items have appeared in the uC Shop including Festive Conveyor (a really fast and 2x2 unit conveyor making shop conveyors about obsolete), Snow-Covered Tree, and Christmas Wall.
Sweet Tooth was first sold by Headless Santa on December 27th, 2016.
The name changed from Miner's Haven to Santa's Haven for a few days.
A patch was made the following evening, changes listed below.
Santa's Chimney was updated, which included fixes and an updated description.
Miner's Haven was renamed to "Santa's Haven" for a short amount of time.
Gamepass Sale, around 9:00pm EST Berezaa put another set of discounts on gamepasses which include:

15% off Executive (from 2500 R$ to 2100 R$)
30% off premium (from 800 R$ to 560 R$)
50% of VIP (from 90 R$ to 45 R$)
and 75% off Shout colorizer (from 40 R$ to 10 R$)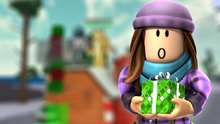 Trivia
The Thumbnail for part three of the 2016 Miner's Haven Winter Event was created using the thumbnail for Lazer1785's Santa's Workshop review as a background.
Starting with the Skipped Life Update, Berezaa began releasing patch notes for his updates, from now on, update pages will link to those patch notes and additional notes and comments will be written on the pages. This means we will no longer copy and paste notes from bergames.com. In the case where patch notes get deleted from bergames.com, TWEM will keep backups.
All Miner's Haven Updates & Events Template Page
| | |
| --- | --- |
| 2018 | Fresh Air Update, Innovation: Black Panther, Magic Clover Event, The Layout Update/Easter Update 2018, 100 Million Visits!, Menu Refresh Update, The Gargantuan Update / Miner's Haven 3rd Anniversary, The Knowledge Update |
| 2017 | New Year's Update 2017, The Ultimate Update, Golden Clover Event, Skipped Life Update, Pre Easter Update 2017, Easter 2017, Clan Contest, Exotic Day, Summer Update 2017, Fidget Spinner Patch, Birthday Update 2017, The Resurrection Update, Halloween Event 2017, The Life Saving Update, Black Friday 2017, Winter Event 2017 |
| 2016 | Early 2016 Updates, Xbox Update, April 2016 Updates, May 2016 Updates, June 2016 Update, Birthday Update, Fourth of July update, August 2016 Update, September 2016 Update, Pre Spooky Update 2016, Halloween Event 2016, Black Friday 2016, 2016 Winter Update |
| 2015 | Summer Update 2015, The Overnight Update, Halloween Event 2015, November 2015 Updates, Black Friday 2015, 2015 Winter Update |
Pages in category "Winter Event 2016"