Event Overview
The 2017 Winter Event is an event in Miner's Haven that took off on December 17th, 2017 and ended on January 19th, 2018. The initial update saw the release of holiday-themed items, a seasonal box containing festive items from years past, and the revelation of Part I of the Black Friday Artifacts bought in 2017. The Christmas patch on December 23rd, 2017 saw the return of Headless Santa (but he actually has a head this time), as well as 2017 Artifact items, a new Evolved Reborn, and more festive items.
Part I Update Changelog (12/17/2017)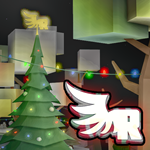 General
The map has been outfitted with festive decorations in preparation for a special guest.
Time of day cycle now stuck to nighttime.
The loading and save select screens are now transparent to reveal the decorated map.
The shop UI was revamped.

A new shop section was added, outlining recently-added shop items.

The wobbly placement system has been "fixed", somewhat
Executive minigun was re-worked, buffing it in general.
New Mystery Box: Festive Box

Its purpose is exactly like the Pumpkin Box, containing relics from all three Winter Events.
2017 Artifacts
Part I of the Black Friday artifacts are revealed, which are permanent perks.

Lone Frog increases maximum health for every Regular Crate touched.
Circus Tent gives one free Megaphone in the Daily Gift every three days in a row.
Corrupt Pearl gives a Cursed Crate in the Daily Gift, which has a chance to give a Red-Banded Box.
New Items
Seven new Collectible-tier items, which can be obtained through the Festive Box or the Shop.
Part II Update Changelog (12/23/2017)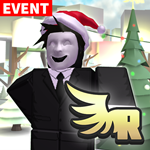 General
The Crate Merchant (Spook McDooks) can now give a Luxury Box.
Daily Gifts will always contain a free Festive Box.
New beginner initial setup and inventory, designed to showcase the methods of making money.
"Headless" Santa returns, with The Masked Man remaining active.
Vintage & Exotic rates are doubled for Unreal and Inferno Boxes.
Time of day cycle no longer stuck to nighttime.
Top players on each four of the leaderboards will appear on the Save Select menu.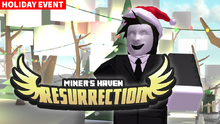 2017 Artifacts
Part II of the Black Friday artifacts are revealed, which are collectible items.

New Items
Festive Base Contest
After receiving multiple tweets from players showing off their decorated bases, Berezaa launched a one-day contest on Twitter after the Part II update launch requiring entries to decorate their base, the player that has the most festive of the bases will win 100,000 uC.
Entries were accepted until near midnight PST. The winner of the contest was iceeeeey6, who got the grand prize of 100,000 uC, and several other honorable mentions got free loot as consolation prizes.
Christmas Product Sale (12/26/2017)
A sale was hosted for two days, starting on December 26th, 2017, which revolved around 30% price cuts on VIP, Premium, and Executive passes.
| Product | Discount Percentage | Sale Price | Original Price |
| --- | --- | --- | --- |
| VIP Pass | 30% | R$55 | R$80 |
| Premium | 30% | R$560 | R$800 |
| Executive | 30% | R$1750 | R$2500 |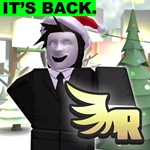 Miner's Haven Shutdown (12/30/2017)
General
On 12/30/17, Miner's Haven experienced a Shutdown from Roblox, which lasted an hour. This was due to the Discord code that was on the starting screen, which is now replaced with berezaa's Twitch. You can learn more about this on the Discord Integration page. Nothing new was added, nor was anything changed gameplay wise.
"discord.gg/ber" on the starting screen has been changed to "twitch.tv/bereza".
Starting with the Skipped Life Update, Berezaa began releasing patch notes for his updates, from now on, update pages will link to those patch notes and additional notes and comments will be written on the pages. This means we will no longer copy and paste notes from bergames.com. In the case where patch notes get deleted from bergames.com, TWEM will keep backups.
All Miner's Haven Updates & Events Template Page
| | |
| --- | --- |
| 2018 | Fresh Air Update, Innovation: Black Panther, Magic Clover Event, The Layout Update/Easter Update 2018, 100 Million Visits!, Menu Refresh Update, The Gargantuan Update / Miner's Haven 3rd Anniversary, The Knowledge Update, Halloween Event 2018, New Heights Update |
| 2017 | New Year's Update 2017, The Ultimate Update, Golden Clover Event, Skipped Life Update, Pre Easter Update 2017, Easter 2017, Clan Contest, Exotic Day, Summer Update 2017, Fidget Spinner Patch, Birthday Update 2017, The Resurrection Update, Halloween Event 2017, The Life Saving Update, Black Friday 2017, Winter Event 2017 |
| 2016 | Early 2016 Updates, Xbox Update, April 2016 Updates, May 2016 Updates, June 2016 Update, Birthday Update, Fourth of July update, August 2016 Update, September 2016 Update, Pre Spooky Update 2016, Halloween Event 2016, Black Friday 2016, 2016 Winter Update |
| 2015 | Summer Update 2015, The Overnight Update, Halloween Event 2015, November 2015 Updates, Black Friday 2015, 2015 Winter Update |
Trending pages
All items (16)