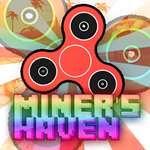 Overview
The Fidget Spinner Patch was a patch released to Miner's Haven on June 7th 2017, Berezaa said it was an update to fix an undisclosed exploit. This patch also included the following:
New Items
Spinnerite Mine: A joke item which had $10 ore value and fidget spinner shaped ores which was obtained with Daily Gifts. (You can now only get this by buying it with uC or by opening boxes, and its value is now 500$).
Fidget Spinner Tool: A tool used to throw a Fidget Spinner onto the floor. Spins for a long time unless you decide to click again, picking it up.
Bug Fixes
Hitboxes are finally fixed. Hitboxes will sometimes still appear blue, but you cannot place down the item.
Item duplication bug fixed.
Starting with the Skipped Life Update, Berezaa began releasing patch notes for his updates, from now on, update pages will link to those patch notes and additional notes and comments will be written on the pages. This means we will no longer copy and paste notes from bergames.com. In the case where patch notes get deleted from bergames.com, TWEM will keep backups.
All Miner's Haven Updates & Events Template Page
| | |
| --- | --- |
| 2017 | New Year's Update 2017, The Ultimate Update, Golden Clover Event, Skipped Life Update, Pre Easter Update 2017, Easter 2017, Clan Contest, Exotic Day, Summer Update 2017, Fidget Spinner Patch, Birthday Update 2017, The Resurrection Update, Halloween Event 2017, The Life Saving Update, Black Friday 2017 |
| 2016 | Early 2016 Updates, Xbox Update, April 2016 Updates, May 2016 Updates, June 2016 Update, Birthday Update, Fourth of July update, August 2016 Update, September 2016 Update, Pre Spooky Update 2016, Halloween Event 2016, Black Friday 2016, 2016 Winter Update |
| 2015 | Summer Update 2015, The Overnight Update, Halloween Event 2015, November 2015 Updates, Black Friday 2015, 2015 Winter Update |
Ad blocker interference detected!
Wikia is a free-to-use site that makes money from advertising. We have a modified experience for viewers using ad blockers

Wikia is not accessible if you've made further modifications. Remove the custom ad blocker rule(s) and the page will load as expected.