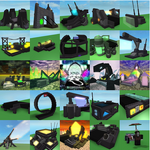 The nights are getting shorter, and the days are getting hotter. Big changes are coming to Miner's Haven in two weeks. Powerful new items are arriving. Tensions between miners are growing. The Summer Update is coming.
 Overview
The Summer Update is an update coming on May 28, 2017 for Miner's Haven. It was announced by Berezaa on Twitch during the week of April 20th, 2017. More info about this update can be found here The update will come out in two parts. Here are some things that MAY come with the update that Berezaa has talked about:
Changelog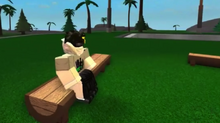 General
New summer map by Skelet0n.
New leaderboard system.
New GUI to be compatible with mobile devices.
Exotic Day ends.
The Masked Man is "now selling ice cream to make ends meet."
Inferno Boxes "un-rigged."
New 6-minute soundtrack made exclusively for Miner's Haven.
PvP
PvP is coming back, with a few changes.

You are immune to PvP while on your own baseplate, but you can still kill others.
RP-stealing will not be re-implemented.
PvP is disabled at the hangout center at the middle of the map.

Explosive Infuser and Sword Master's Gamepass might be re-added.
Old shop weapons will come back.
The Second Sacrifice
See also: The Second Sacrifice
Jetpack
Jetpack fixed for R15 bodies
Shop Decoration Items
Can no longer be sold, but destroyed
Are now reborn-proof (items stay on your base when you rebirth)
New Unknown Tier Items
New Summer Exotic
New exotic to be introduced in boxes.
New Reborn Fusions
Lightningbolt Predicter
See also: Lightningbolt Predicter
Base Guardians
See also: Undead Guardian, Undead Santa, Adowable Guardian, Zombie Clown, Easter Bunny
New Shop Items
New Reborn Items
New Reborn-tier items will be added
New Slipstream Items
New Slipstream-tier items will be added
Starting with the Skipped Life Update, Berezaa began releasing patch notes for his updates, from now on, update pages will link to those patch notes and additional notes and comments will be written on the pages. This means we will no longer copy and paste notes from bergames.com. In the case where patch notes get deleted from bergames.com, TWEM will keep backups.
All Miner's Haven Updates
| | |
| --- | --- |
| 2017 | New Year's Update 2017, The Ultimate Update, Golden Clover Blaster, Skipped Life Update, Pre Easter Update 2017, Easter 2017, Exotic Day, Summer Update 2017 |
| 2016 | Xbox Update, Spring 2016 Update, April 2016 Updates, May 2016 Updates, June 2016 Update, Birthday Update, Fourth of July update, August 2016 Update, September 2016 Update, Pre Spooky Update 2016, 2016 Spooky Update, Black Friday 2016, 2016 Winter Update |
| 2015 | Summer Update 2015, The Overnight Update, Halloween Event 2015, November 2015 Updates, 2015 Winter Update |
Ad blocker interference detected!
Wikia is a free-to-use site that makes money from advertising. We have a modified experience for viewers using ad blockers

Wikia is not accessible if you've made further modifications. Remove the custom ad blocker rule(s) and the page will load as expected.