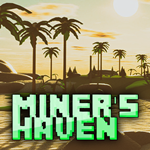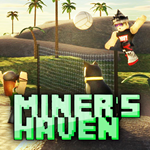 The nights are getting shorter, and the days are getting hotter. Big changes are coming to Miner's Haven in two weeks. Powerful new items are arriving. Tensions between miners are growing. The Summer Update is coming!
Overview
The Summer Update is an update coming on May 28, 2017 for Miner's Haven. It was announced by Berezaa on Twitch during the week of April 20th, 2017. More info about this update can be found here . Here are some things that MAY come with the update that Berezaa has talked about:
Part 1 Changelog (5/28/2017)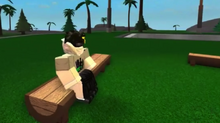 General
Easter Event 2017
Easter Event 2017 has ended

Easter Eggs no longer fall from the sky every half hour
Easter items (except Easter Wall) made unobtainable
PvP (Player vs. Player)
PvP is coming back, with a few changes.

You are immune to PvP while on your own baseplate, but you can still kill others.
RP-stealing will not be re-implemented.
PvP is disabled at the hangout center at the middle of the map.

New weapons: Axe, Venomshank, Banhammer
Exotic-tier Items
New exotic-tier item: Oasis, to assist beginner players
Vintage-tier Items
Reborn-tier Items
Swordmaster Statue
See also: Swordmaster Statue
Now obtainable in the uC Shop for 65 uC
Base Guardians
See also: Undead Guardian, Undead Santa, Adowable Guardian, Zombie Clown, Easter Bunny
Jetpack
Shop Decoration Items
Can no longer be sold, but destroyed
Now stay on your base when you rebirth
uC Shop Items
uC Shop Infusers changed from Premium to Refined tier
New Shop Items
Lightningbolt Predicter
See also: Lightningbolt Predicter
Mini-Patch Changelog (5/30/2017)
This mini-patch was released to fix major problems related to the 2017 Summer Update and/or other issues, and to also release new features.
Unlimited Undo
Undo button now works more than once in placing mode

Orange-outlined hitbox will briefly appear on removed item

Only on PC at the moment
Hitboxes
Hitboxes now fixed, no longer allowing players to place items inside one another
Oddly enough, hitboxes were not fixed in this patch, but the Fidget Spinner Patch on 06/07/2017.
Darkheart
Illumina
Venomshank
See also: Venomshank
Hotkeys & Chat
Hitting a hotkey (e.g., 'F' to undo) while chatting no longer triggers action
Executive Minigun
Inferno Boxes
Fidget Spinner Patch (06/07/2017)
Main Article: Fidget Spinner Patch
Part 2 Changelog (06/10/2017)
General
Skybox changed, thanks by Yourius
New hidden easter eggs (NOT THE EASTER EVENT ONES)
Sword Master gamepass was brought back on sale for one minute at R$1200
New badge: Hero
The Second Sacrifice
See also: The Second Sacrifice
Mini Infuser
See also: Mini Infuser
New vintage-tier item: Mini Infuser
Basically the same thing as the Smol Infuser from Miner's Haven 2 Alpha
Rocket Launcher
See also: Rocket Launcher
New exotic-tier weapon: Rocket Launcher
Only obtainable from the Ice Cream Man
The Grand Prism
See also: The Grand Prism
Easter Wall
See also: Easter Wall
Made unobtainable
Made sacrifice-proof
New Shop Items
New Reborn Fusions
Main article: Reborn Fusion
Spinnerite Mine
See also: Spinnerite Mine
Tier changed from Common to Premium
Now available in the uC Shop for 45 uC
Buffed orevalue from $10 to $500
No longer obtainable from daily gifts
Dragonglass Mine
See also: Dragonglass Mine
One of the three ores from its bursts now only get accepted by cell furnaces
Sakura Garden
See also: Sakura Garden
Life requirement increased to 250, from 100
Dreamer's Anguish
See also: Dreamer's Anguish
Multiple tier requirements increased
Fool's Gold Mine
See also: Fool's Gold Mine
Tier changed from Vintage to Exotic
Carlos & Discord
New ranks on the Berezaa Games Discord, including one exclusively for performing the Second Sacrifice
Mystery Boxes
See also: Mystery Boxes
Inferno Boxes: No longer rigged
New special variant of Mystery Box that contains "awesome loot"
Starting with the Skipped Life Update, Berezaa began releasing patch notes for his updates, from now on, update pages will link to those patch notes and additional notes and comments will be written on the pages. This means we will no longer copy and paste notes from bergames.com. In the case where patch notes get deleted from bergames.com, TWEM will keep backups.
All Miner's Haven Updates & Events
| | |
| --- | --- |
| 2017 | New Year's Update 2017, The Ultimate Update, Golden Clover Event, Skipped Life Update, Pre Easter Update 2017, Easter 2017, Clan Contest, Exotic Day, Summer Update 2017, Fidget Spinner Patch, Birthday Update 2017 |
| 2016 | Xbox Update, Spring 2016 Update, April 2016 Updates, May 2016 Updates, June 2016 Update, Birthday Update, Fourth of July update, August 2016 Update, September 2016 Update, Pre Spooky Update 2016, 2016 Spooky Update, Black Friday 2016, 2016 Winter Update |
| 2015 | Summer Update 2015, The Overnight Update, Halloween Event 2015, November 2015 Updates, Black Friday 2015, 2015 Winter Update |
Ad blocker interference detected!
Wikia is a free-to-use site that makes money from advertising. We have a modified experience for viewers using ad blockers

Wikia is not accessible if you've made further modifications. Remove the custom ad blocker rule(s) and the page will load as expected.